Pastor Appreciation Poems
Poetry speaks in a language all its own. Hopefully these pastor appreciation poems will help you show your thankfulness in a language clearly understood by your pastor.
You may also be able to use
A Country Church of Long Ago
Up a narrow and rocky path, A little church was placed. In the dust of that narrow lane Are footprints that time has erased.
If the walls could talk to us now, Oh the memories they would bring back, Of the old log pews which were made by hand And the potbelly stove which heat did lack.
Their favorite old hymns were sung with love, In their hearts the joy bells were ringing. With the warmth of the Spirit in their smiles, The message of salvation the preacher was bringing.
The churches now are so modern With fancy pews and furnaces grand, Even air-conditioners for cooling To sooth the discomforts we can not stand.
The little lane is all but gone now And the church roof is sagging low, But the memories can linger in the hearts Of all who went and loved it so.
Judy Crowe
A Message From God
Sometimes God says, Slow down,
I want you to be still and listen.
Can't you see you're going too fast?
Know that I am here to take care of you.
Now and then our body needs rest,
Endless running can wear us down,
So rest a while and let healing work,
Slow down and let God speak.
By Judy Crowe
God's Instrument
This pastor appreciation poem is about how God uses pastors in our lives.
I see the hands that hold God's word
And fold in prayer to seek His will.
I see the feet that walk the path
And offers of praise as from lofty hill.
I see the hands that serve Him well,
The ears that seek to hear His call,
The mouth that speaks truth and wisdom,
The busy feet that carry the message to all.
I see the heart that was priked and entered
When God's man answered the gospel call
And yielded His life as a humble servant,
A man who is willing, as was Apostle Paul.
I see all of this as he stands in the pulpit,
An instrument through which God speaks
The words of wisdom, of love and peace,
To lead and guide all those whom God seeks.
by Judy Crowe
The Gift
This pastor appreciation poem is based on Ephesians 4:8-13 which reads, "When Jesus ascended to the heights, he led a parade of captives and gave gifts to his people...He is the one who gave these gifts to the church: pastors and teachers. Their responsibility is to equip God's people to do his work and build up the church, the body of Christ..."
When Jesus celebrated his victory over sin and death,
He chose to send gifts to those he set free.
He could have, of course, chosen to give us anything: Knowledge, spiritual growth, protection from the Evil One, or even comfort during trials.
In the end, though, when Jesus celebrated his victory over sin and death,
He chose to give us all these things because, Pastor,
He chose to give us, you.
by Daniel Sherman
Lord, Help My Pastor
by, Patricia Bankhead
Lord, help my Pastor, I pray
There are many obstacles in his way
Every burden help him to bear
Dear Lord, keep him in Your tender care
Give him strength and the ability
To care for the church and his family
Lord, there is so much he has to do
He can't do alone, he surely needs You
So shelter him in Your loving arms
Safe from all danger and unseen harm
Guard his mouth, his heart and mind
Remove every tittle of sin and pride
Keep him in the hour of temptation
May he not be moved by Satan's persuasion
Remove all fears, Lord, remove all doubt
By Your Spirit, Lord, be in his mouth
So that he will speak a word that is due
And bring Your dear people closer to You

In Jesus Name, Amen.
The Good Shepherd
by Laura Smith (an excerpt from "A City Without Walls")
There once was a flock
That was lost and afraid
It wandered around
Without direction for days
But the Lord looked down
With compassion from above
And sent a good shepherd
To lead them with love
The shepherd was kind
Loving and wise
And he cherished his whole flock
No matter the color or the size
Though the shepherd was quiet
Humble and meek
Every ear listened
Whenever he would speak
He showed them the way
To walk in the light
And he prayed every day
For God to give them true sight
He taught them about
The blood of the Lamb
And about the creator
The great I AM
They flourished and they grew
Through the knowledge they gained
About the Saviour from above
Who lived without blemish or stain
The flock was so thankful
To the Lord up above
For sending a wise leader
Who was so full of love
He lead them with
A strong and gentle good hand
And took the whole flock
Safely into God's Promised Land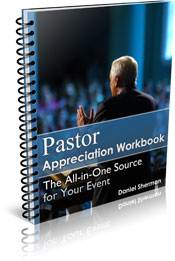 Only As Good As
This pastor appreciation poem would work well for a Worship Pastor.
His/Her smile brings a glow
As she raises her baton.
An awe hushes the din
As the music begins to dawn.
The voices blend in glorious sound,
The words which were penned in song
And the blend of joyous music
Echoes out over the silenced throng.
The finale brings a tear or two
As they end in brilliant praise,
For all the tiresome labor
Has left the audience in a quiet daze.
Then the roar of appreciation
Echoes through the awe struck crowd
And standing there, the choir brightly smiles
For they know the reason, though not said aloud.
The choir can only sing with fervency,
If the director takes the time to care.
For the choir is only as good as the leader
Who's love for music, the choir will share.
by Judy Crowe
Please Understand Me
This pastor appreciation poem speaks of the reasons we need pastors but are too uncomfortable to admit.
We would never tell you this, but we are afraid;
Afraid that our lives will end and few will notice.
We would never tell you this, but we are lonely;
Surrounded by a crowd we're all alone.
We'd never tell you this, but we feel empty;
There's so much more to life but we can't quite reach it.
We would never tell you, but we're disheartened;
No matter how hard we try, a meaningful life escapes us.
We'd never tell you this, but we are worried;
Worried about tomorrow, worried about the past.
We would never tell you, but we're unfulfilled;
Our lives are full, but our hearts aren't satisfied.
We'd never tell you this, but we're searching;
Longing for something to make sense of it all.
We would never tell you, but we need someone to care for us;
Someone who accepts us for who we really are.
We'd never tell you this, pastor, but we need you more than you know.
A Pastor Appreciation Poem by Daniel Sherman
Our Pastor
This pastor appreciation poem reminds us of the importance of pastors in our lives and of how we should respond.
Have you ever walked in our Pastor's shoes,
And gone where his feet have trod?
Have you ever thought of what he means to us,
And on your knees, given thanks to God?
Have you ever told him thank you,
For being there, when times are tough,
For comforting words and fervent prayers
When trials come and the storms of life are rough?
He answers our calls in the middle of the night
And tells us not to worry, for he will be there.
He gives up his comfort of quiet rest
And comes with prayers of comfort to share.
Have you ever thought to say thank you Pastor,
For preaching God's word to help us understand,
For all the times he has asked for things
That will lend us a helping hand?
When you pray, put him at the top of the list
And ask the Lord to surround him with loving care,
To give him strength and walk with him,
To help him with the burdens that he must bear.
Have you ever walked in our Pastor's shoes,
And gone where his feet have trod?
Have you ever thought of what he means to us,
And on your knees, given thanks to God?
A Pastor Appreciation Poem by Judy Crowe
Our Shepherd
This pastor appreciation poem is adapted from Psalm 23.
The Lord gave us a shepherd,
We're no longer in want.
He helps us find God's green pastures,
He leads us along still waters,
And he is used by God to restore our souls.
He guides us by straight pathways,
Bringing honor to God's name.
When we walk through the valley of the shadow of death,
We are not afraid because he walks with us.
His teaching and correction comfort and strengthen us.
He helps us stand strong in the face of evil.
He is the oil of healing and health in our souls.
Through him God has overflowed our lives with blessing.
Goodness and mercy are sure to follow us all our days,
And we are secure in eternal life
Because the Lord gave us a shepherd.
A Pastor Appreciation Poem Adapted from Psalm 23 by Daniel Sherman
---
The following pastor appreciation poems were graciously provided by Hope Christian Reformed Church in Brantford, Ontario, Canada. They are posted here with permission from the church's webmaster, John Gilson. The individual authors are noted at the end of each poem.
A Pastor's Heart
This pastor appreciation poem was written by the author for her pastor's ordination. The word "pastor" is used as an acronym.
A pastor's heart is Protective
and guards his flock from Satan's snares.
A pastor's heart is Attentive
and seeks to know his people's cares.
A pastor's heart is Sacrificial
and for his sheep will give its all.
A pastor's heart is Tender
and listens to the Spirit's call.
A pastor's heart is Obedient
and heeds the Master's commands.
A pastor's heart is Reflective
and considers he is but a man.
Deanna Malawy
Okawville, Illinois, USA
A Pastor's Heart
A well spoken message stirs a heart to rejoice
There is nothing like a strong, resilient voice
But when sorrow comes, there is no better gift to impart
Then the gift of a caring, pastor's heart
A loving touch or a kind word
A moment of counsel from God's holy word
A telephone call--after you just heard..,
Is the gift of our pastor's heart.
Lord, bless this pastor
In each new day
Bless his ministry along the way
For fame and fortune can never impart
The precious gift of a caring pastor's heart
Just a servant of Christ
and at times a dear friend
With a desire to love God
To the very end
Tending his flock in the Savior's way
Is the gift of a pastor's heart
Striving to live
as an apostle of Christ
Serving his father giving Godly advice!
Preaching and teaching and sharing the Word
Is the gift of a caring pastor's heart.
Sandra L. Adams, Copyright 2000, CCLI 5759028
To Our Pastor
Our God has sent you to this place
To lead us in the way
That He would have us work and think
And live from day to day.
No matter the hour; whatever the need,
You go the extra mile -
Always ready and willing to share
A comforting thought and a smile.
We're grateful that you're here with us
To teach us from His word,
And we will try to do our best
In service of our Lord.
We thank you for your ministry,
Your guidance and your care.
His greatest blessings for your life
Is our most humble prayer.
Author Unknown
Feed My Sheep
This pastor appreciation poem speaks to the call God places on the life of your pastor.
A small voice in the dark
Whispering to an open heart
My child, My child, listen to Me
And the words to you I speak
My child, My child, feed My sheep
Though I tried to ignore it
The voice wouldn't go away
My child, My child
What are you waiting for
My child, My child, feed My sheep
What do I have to give, I cried
To those who are hungry and lost
To those who stand in the dark
What can I feed Your sheep
Master, Master, I did cry
What do I have to give, I asked
Those who know sorrow and despair
Those who know no hope or love
What can I feed Your sheep
Master, Master, I ask You
Gather together within My fold
My sheep who are hungry and lost
My sheep who are standing in the dark
And with the Bread of Life I give
My child, My child, feed My sheep
Hear My voice upon your heart
Listen closely to what I say
As I fed you with My words
And also with My love and grace, so shall you
My child, My child, feed My sheep
Jackie, Florida, USA
---
I hope that these pastor appreciation poems will help you minister more effectively to your pastor. For more poems, try these pages:
--------------------------------------