Pastor Appreciation Workbook
The All-in-One Resource
for Your CelebrationNEW for 2011-2012!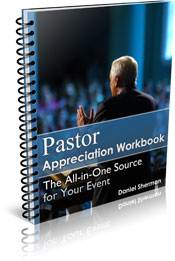 Planning a Pastor Appreciation event?
Not sure where to start?
You can use the 2011 Pastor Appreciation Workbook.
Need new ideas or a little guidance?
This guide will help with that too.
I created the Pastor Appreciation Workbook just for you... and other people who need a little help brainstorming, planning, and executing their next Pastor Appreciation or Pastor's Anniversary program.
This is a 30 page ebook available for immediate download.
This is not a book I mail to you.
The workbook is my response to the questions people are asking about pastor appreciation. I believe it to be a truly one-of-a kind resource that includes nearly everything you will need for your pastor appreciation event.
What Are People Saying?
What are people saying about the Pastor Appreciation Workbook?
Ray B. from Wisconsin said, it's "one of a kind... top notch."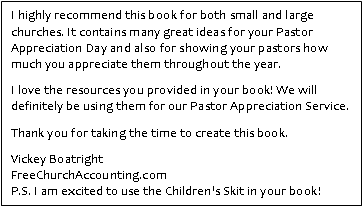 What's Included?
You are, of course, wondering what's included in the Pastor Appreciation Workbook? Here's the list.
NEW Quick Planning Guide - The planning guide includes ten rules of pastor appreciation, best planning strategies, brain storming idea starters, and planning worksheets that will help you keep track of all the tasks your planning team has to accomplish.

NEW Pastor Appreciation Sermon - Someone will probably have to speak at your service or event. What will they say?

NEW Children's Sermon - Get your kids involved in your event. Bring them up on the stage and get ready to be surprised at their honesty, humor, and profound words.

NEW Children's Skit - Your congregation will love seeing your young children proclaim their pastor appreciation... and your pastor will be blessed.

NEW Children's Activity Sheet - Put this two-sided activity sheet in your bulletin and give your kids (and adults) something to keep them involved and engaged in your event.

NEW Bulletin cover - And speaking of bulletin, print out and copy this special pastor appreciation bulletin cover. It has a message that will certainly encourage your pastor.

Press Release - Get the news out to your community about your pastor appreciation event. Use my sample press release to help you submit your news to the local media outlets. It comes complete with a page of instructions to help make the process simple.

NEW Newsletter Article - One of the most frequently requested resources at My-Pastor.com is for an article that can be printed in a church newsletter. The article is entitled, "Ten Questions that Will Encourage Your Pastor."

Announcement Letter to the Congregation - How do you inform your congregation without letting your pastor know about all your plans? I have a list of suggestions in the pastor appreciation workbook. One of the best ideas is sending out a letter directly to each person in the church. You can use my sample letter as a starting point.

NEW Poster - Another way to help prepare your church for your pastor appreciation or anniversary event is to put up posters. The Pastor Appreciation Workbook contains an 8 1/2 by 11 inch full color poster for that purpose. Print out a few copies, fill in the date and time, and post throughout your church building.

NEW Appreciation Post Cards - One way to tell your pastor how much you appreciate him is to write him a note of gratitude. The workbook has a page of postcards perfect for this purpose. Print out the page of four cards on heavier card stock. Give one out to each person and have them write a note of appreciation. The message on the front reads, "Pastor I am Moved to Gratitude Every Time God Brings You to My Mind."

Additional Resources - The final page of the Pastor Appreciation Workbook contains a list of links to other resources on the internet. These are things that I couldn't put into the workbook itself but I just couldn't leave out either.
Plus a FREE ebook
I'll also include with your Workbook purchase my ebook, 120 Ways to Encourage Your Pastor.
This book contains 120 different ways to show pastor appreciation.
What to say or write
What to pray for
Creative things you can do
Gift ideas
You will certainly find a variety of ways in this ebook to help encourage your pastor.
And best of all, this bonus ebook is free!
What Does the Workbook Cost?
The Pastor Appreciation Workbook is just $17.00. I am trying to keep the price low so that as many people as possible can use this resource.
If you've been thinking about purchasing this book for yourself or your church, the best time is now!
You get the Workbook and the free appreciation ebook!
Show your Pastor today that you appreciate him or her and purchase the 2011 Pastor Appreciation Workbook for $17.00
How Does It Work?
The Pastor Appreciation Workbook is an ebook and available for immediate download. It is not a book that I send you in the mail. Just click the "Add to Cart" button above and a pop-up window will open. Click the "PayPal" button on the bottom and you will be taken to a payment page. You do not have to sign up for a PayPal account. The page may ask if you want to set up an account. But you do not have to. Just click the link to make a direct payment. Complete the sale on that page. You will then be taken to a download page. You'll need the free Adobe Acrobat reader to view the file.
NOTE: Please make sure to read the instructions on the download page. There is a second link on that page that takes you to the special page where you can download the free ebook, 120 Ways to Encourage Your Pastor.
That's all there is to it! Read it, print it, use it to show your pastor appreciation.
Once you purchase the book, would you take a minute to tell me what you think? Use the form below to share your thoughts - positive or negative - about the book.
NOTE: You'll need the free Adobe Reader to view this workbook. You can download it for free by clicking the banner below.

What Do You Think of the Pastor Appreciation Workbook?
Share your thoughts about the Pastor Appreciation Workbook.
What Other Readers Have Said
Click on the titles below to see the opinions of people who purchased the book.
If you'd rather not purchase the Pastor Appreciation Workbook, try these 52 pastor appreciation ideas.