Eduardo Urena
by Sandra Sencion-Garcia
(Port St Lucie, Florida)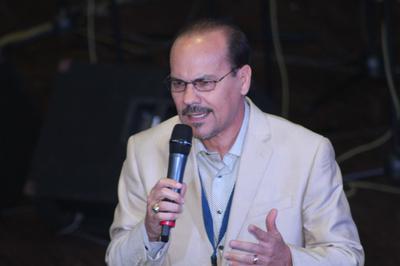 Most pastors have a lot on their plate and mine is no different. As a matter of fact, my pastor is the best pastor in the world. I am talking about the Lead Pastor at Church of God-Prince Of Peace Church in Port St Lucie, FL.

What makes him great is his passion for his ministry. Everything rises and falls on leadership. He is an effective leader who can accurately discern vision, mobilize others to fulfill that vision and act as a mentor to support it. His mission, like Paul's, is to share the good news with as many people as possible. Rom 15:14-22.

Pastor Eduardo Urena's dedication to his ministry is proven by his church renovation plans, late night hospital visits, meetings with church leaders, research and preparation of sermons, he leads counseling sessions, performs weddings, funerals, deals with people's burdens, pain, sorrows, sadness, anxiety and still manages to invest in his wife and children, and his immediate cabinet members. I am amazed to see how much time and energy my pastor puts into the church. It takes a lot of mental, physical, emotional and spiritual energy to care for the needs of so many people on a regular basis. This is why my admiration, my gratitude and my prayers goes to him everyday.

May the grace of God always be upon him. God bless him and expand his territory.

I want to praise Pastor Urena to encourage him to continue his work in ministry as he is an ardent teacher of the Word we all need to learn from him and others like him.