To Build a Church Web Site
Start by Choosing the Best
Church Web Host
So you're building a church web site. There are so many companies today offering hosting, how do you choose the best church web host?
Start by asking the right questions...
What Should You Expect from a Church Web Host?
Any reputable church web host will – and should – provide you with a 99% uptime guarantee. That means that they promise to keep your site visible on the internet at least 99% of time. Because of maintenance, no web host guarantees 100% uptime.
But is that all you should expect from a good church web host?
No.
Is this all you need to build a good church web site?
Absolutely Not.
To give you the best church web site, a hosting company needs to provide much more than just a site on the internet.
What should it provide? At least the following…
99% Uptime.
Submission of your pages to search engines like, Google. Please be careful here. Most web hosts will submit your site to the main search engines. Some will even submit it with the specialized file format now required by most of the largest search engines. But what you need is a church web host that will submit each page as it is built to each search engine according to each engine's particular policies. Then, the Christian web host should monitor the engines to see if your pages are accepted and listed. If not, then your web host should automatically re-submit the rejected or overlooked pages on a schedule accepted by each engine. Special Note: Many church web hosts will submit your pages to the search engines once…for an extra charge. But your church web site needs much more attention than that…and it should be included in the original price.

Thorough traffic statistics. Your church web host should tell you how many visitors you have each day, how the visitors found your site (e.g., Google, Yahoo, etc.), how many pages they visited, and what links they clicked on your site.
Help. A good church web host will provide you with help through every stage of the site building process. Look for things like online and printable manuals, a vibrant forum where users help each other, technical support, newsletters, etc.
Plenty of success stories. These stories tell you up front that you are dealing with a reputable church web host. But they also keep you motivated as you are building your site.
How Much Should You Pay for a Church Web Host?
You have probably seen advertisements for domain names for as low as two dollars per year. These same companies offer web site hosting services for less than ten dollars a month.
But you get what you pay for.
Godaddy.com in particular, offers a basic ten-page web site for less than ten dollars a month. The package includes email and a fairly simple program with which you can build a site without knowing all the technical stuff.
But then they try to sell you add-ons. The ten dollars a month does not include search engine submission. It doesn't include traffic statistics. And if you want more than ten pages (which you will), you will also have to pay more.
In the end, you'll pay more than you expect and get the same results most churches are already getting with their current sites – few visitors, no ministry.
So, how much should you pay?
How much do you pay for your phone book advertisement?
How much do you pay for your newspaper advertisement?
How much do you pay for other forms of advertisement?
For about $300 (USD) per year you can have a church web site and the visitors that make a site successful.
I don't know of a better deal out there.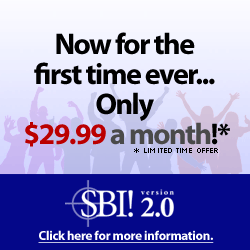 For your church web site, Solo Build It
is my first and only recommendation for building an effective church web site.
Why am I so passionate about Solo Build It? I openly admit that I receive a commission if you or your church purchases a Solo Build It web site. But I also proudly declare that I believe it to be the best option available. It's what I use and I love it.