Church Sign Sayings
Church sign sayings are sometimes funny, sometimes deep, other times just a little corny. But church signs are almost always worth reading.
I have to admit that I've nearly caused accidents trying to read church signs as I'm driving by. So this list is a safe way to read Christian signs... unless you're reading them on you cell phone while you're driving.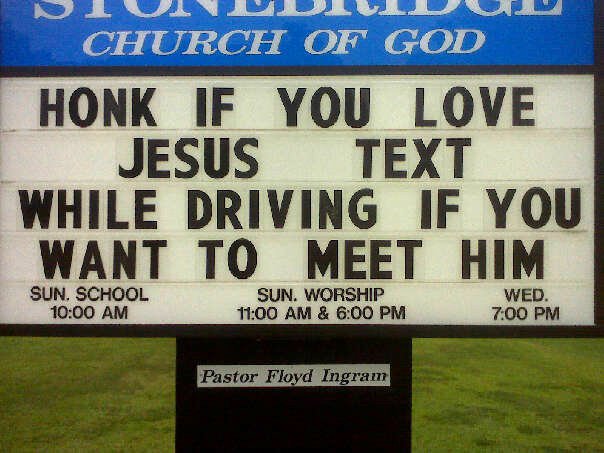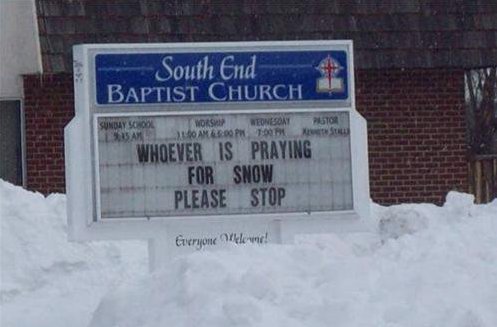 No God—No Peace. Know God—Know Peace.
Avoid Sin Burn, Use Son Block
Free Trip to heaven. Details Inside!
Try our Sundays. They are better than Baskin-Robbins.
Searching for a new look? Have your faith lifted here!
An ad for a local church has a picture of two hands holding stone tablets on which the Ten Commandments are inscribed and a headline that reads, "For fast, fast, fast relief, take two tablets.
When the restaurant next to a Church put out a big sign with red letters that said, "Open Sundays," the church reciprocated with its own message: "We are open on Sundays, too."
Have trouble sleeping? We have sermons—come hear one!
A singing group called "The Resurrection" was scheduled to sing at a church. When a big snowstorm postponed the performance, the pastor fixed the outside sign to read, "Resurrection postponed."
People are like tea bags—you have to put them in hot water before you know how strong they are.
God so loved the world that He did not send a committee.
Come in and pray today. Beat the Christmas rush!
When down in the mouth, remember Jonah. He came out all right.
Sign broken. Message inside this Sunday.
Fight truth decay—study the Bible daily.
How will you spend eternity—Smoking or Non-smoking?
Dusty Bibles lead to Dirty Lives
Come work for the Lord. The work is hard, the hours are long and the pay is low. But the retirement benefits are out of this world.
It is unlikely there'll be a reduction in the wages of sin.
Do not wait for the hearse to take you to church.
If you're headed in the wrong direction, God allows U-turns.
If you don't like the way you were born, try being born again.
Looking at the way some people live, they ought to obtain eternal fire insurance soon.
This is a ch_ _ ch. What is missing? -----> (U R)
Forbidden fruit creates many jams.
In the dark? Follow the Son.
Running low on faith? Stop in for a fill-up.
If you can't sleep, don't count sheep. Talk to the Shepherd.
Church Sign Sayings from Billboards
Some billboards are showing up in various parts of the USA. The billboards have a black background with white text. These billboard messages could easily be used as church sign sayings.
Let's meet at my house Sunday before the game. - God
C'mon over and bring the kids. - God
What part of "Thou Shalt Not..." didn't you understand? - God
We need to talk. - God
Keep using my name in vain, I'll make rush hour longer. - God
Loved the wedding, invite me to the marriage. - God
That "Love Thy Neighbor" thing... I meant it. - God
I love you and you and you and you and... - God
Will the road you're on get you to my place? - God
Follow me. - God
Big bang theory, you've got to be kidding. - God
My way is the highway. - God
Need directions? - God
You think it's hot here? - God
Have you read my #1 best seller? There will be a test. - God
Do you have any idea where you're going? - God
Don't make me come down there. - God
Whether you are looking for church sign sayings for your actual church sign, or just for some interesting reading, I hope these filled your need.
Looking for more laughs? Church sign sayings are great, but these jokes might be what you're looking for.